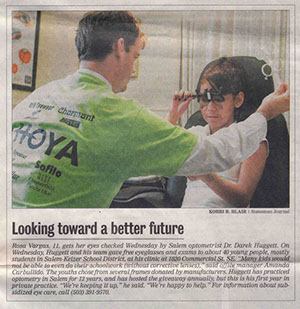 Dr. Huggett is featured in the Statesman Journal newspaper for his work with the Salem-Keizer school district giving free exams and glasses to students in low income families.
Meet Dr. Huggett – The Experienced Optometric Physician
Meet Dr. Huggett, an Optometric Physician and Family Optometrist from Hillsboro, Oregon. Dr.Darek Huggett attended Western University and Pacific University before his early acceptance to the competitive Pacific University College of Optometry. As Class President, Dr. Huggett was heavily involved in social and charitable organizations contributing to those in need. This practice continues to this day as it has over the past 21 years in Salem.
Scholar for the benefit of his patients and is also involved in lectures on medical eye procedures. The father of three girls, his family enjoys outdoor activities such as camping and horseback riding, fishing, biking, and being involved with many great friends.
Through life's experiences, Dr. Huggett is an understanding and sympathetic physician specializing in primary optometry and contact lenses. He treats many medical eye diseases and co-manages cataracts and refractive surgeries with his diagnosis. He is trusted by many who find their needed exams are also an uplifting experience.